Prenatal Multivitamin Tablet Plus DHA Softgel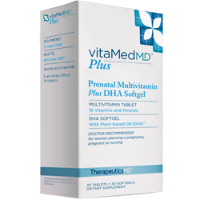 vitaMedMD™ Plus
Retail Price: $39.99
You SAVE 25%
vitaMedMD™ Price: $29.99










Please contact our office to order and/or pick-up
Product Details
Vegan and Kosher Certified
A comprehensive multivitamin providing 16 key vitamins and minerals per tablet plus 300 mg of plant-based DHA per softgel to support your health, whether you are planning a pregnancy, pregnant or nursing.
Each tablet, taken together daily, or as directed by your doctor, includes:
975 mcg of folic acid
30 mg of chelated iron that is easy on the stomach
150 mg of calcium and 600 IU of vitamin D2
25 mg of vitamin B6 and 12 mcg of vitamin B12
Each tablet, taken together daily, or as directed by your doctor, includes:
Fish-free, life'sDHA

™

contains no ocean-borne contaminants, such as mercury or PCBs
Citrus flavored, no unpleasant burp ups
Each box of vitaMedMD Plus contains 30 multivitamin tablets and 30 DHA softgels (1 month supply).
Did You Know?
Research suggests that DHA intake during pregnancy and while breastfeeding supports healthy brain development in babies.*
Chelated iron is more readily absorbed and easier on the digestive tract than other forms of iron. (Chelation is a process of where an iron molecule is attached to amino acids, ultimately boosting iron's bioavailability.)*
Together B-vitamins offer numerous health benefits including fetal health, energy, nerve function, and hair and nail strength.*
*These statements have not been evaluated by the Food and Drug Administration. This product is not intended to diagnose, treat, cure, or prevent any disease.


Ingredients


Directions
Suggested Use: As a dietary supplement for pregnant, lactating and childbearing-aged-women. Take one tablet and one softgel daily with a meal. For adults only. Consult your doctor before taking any supplement.

Warnings

Keep out of the reach of children.